Prescription Type |
Select One
Single Vision Lenses
$169 - $299
Corrects for one field of vision: distance, computer or reading
Progressive Lenses
$399 - $529
A no-line multifocal lens offering multiple corrections in one lens: distance, computer, and reading
Lens Material |
Select One
Light-weight and impact resistant
Recommended for patients with a low to medium prescription (+/- 0.25 to +/-3.00)
Includes easy to clean anti-reflective coating that resists scratches, repels water and oils and offers 100% UV protection
The best optical quality available, light-weight and impact resistant
Recommended for patients with a low to medium prescription (+/- 0.25 to +/-3.00)
Includes easy to clean anti-reflective coating that resists scratches, repels water and oils and offers 100% UV protection
20% thinner than polycarbonate and trivex
Recommended for patients with a medium to high prescription (+/- 3.00 to +/-6.00)
Includes easy to clean anti-reflective coating that resists scratches, repels water and oils and offers 100% UV protection
Lens Material |
Select One
Light-weight and impact resistant
Recommended for patients with a low to medium prescription (+/- 0.25 to +/-3.00)
Includes easy to clean anti-reflective coating that resists scratches, repels water and oils and offers 100% UV protection
The best optical quality available, light-weight and impact resistant
Recommended for patients with a low to medium prescription (+/- 0.25 to +/-3.00)
Includes easy to clean anti-reflective coating that resists scratches, repels water and oils and offers 100% UV protection
20% thinner than polycarbonate and trivex
Recommended for patients with a medium to high prescription (+/- 3.00 to +/-6.00)
Includes easy to clean anti-reflective coating that resists scratches, repels water and oils and offers 100% UV protection
Blue Blocking Filter |
Optional
Blue Blocking Filter
$100
Reduces accumulated potential damage to the eyes from harmful high energy blue light.
Tinted Sunglass Lenses
$0
Tinted lenses in almost any color. 100% UV protection
Eliminate glare, increases visual clarity, reduces eye strain and enhances contrast
1.) Prescription Information |
Select One
Upload a photo of my prescription
Quickly upload a photo of your glasses prescription
Call my doctor for my prescription
Enter your eye doctors information and we'll get it for you
Send it to us later
Email your prescription once you have it ready
We accept JPG, PDF or PNG
2.) Pupillary Distance (PD) |
Select One
X
In order to make prescription lenses we need your pupillary distance (PD). This is the distance in millimeters from one pupil to the other.
Your glasses prescription may have this measurement marked down, if so please select "I know my Pupillary Distance (PD)" and enter the number.
Otherwise, please select "Pupillary Distance (PD) Self-Test" and follow the instructions. This will allow us to calculate your pupillary distance for you.
I know my Pupillary Distance (PD)
Select this box if you have/know your pupillary distance measurement
Pupillary Distance (PD) Self-Test
Don't know your PD? Complete our step by step test
Send it to us later
Email your pupillary distance mesurement once you have it ready
1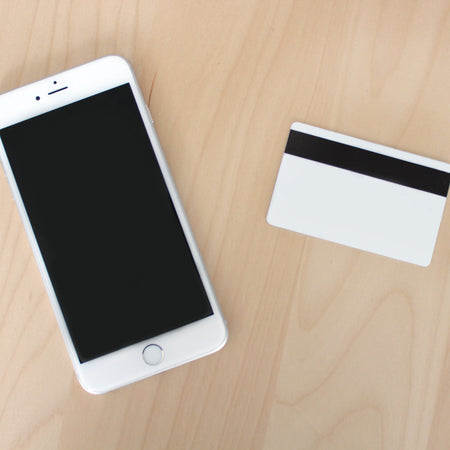 Grab any card with a magnetic stripe and a camera
Note: A credit card, library card or gifts card are all great options.
2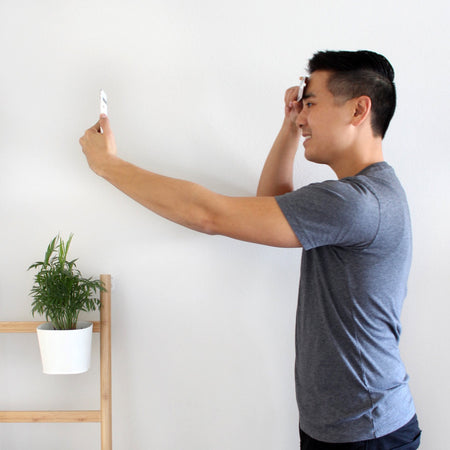 Hold Camera at eye level and position card on forehead
3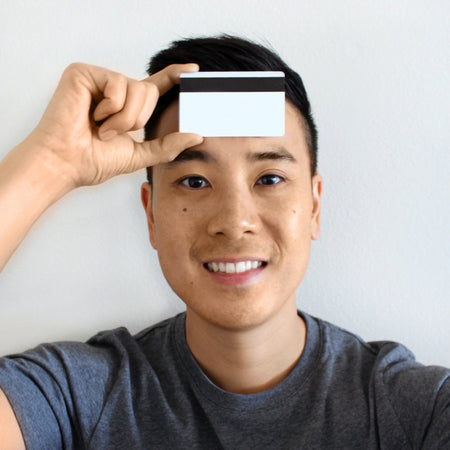 Look straight ahead and snap a photo
IMPORTANT: Make sure the card is not tilted towards the top or bottom of your forehead and try your best to not cover the edges.
4
Upload photo here:
We accept JPG, PDF or PNG
B-IV
---
Each succeeding generation of the B series of frames makes very clear the compelling blend of luxe and rock that distinguishes Olivier Rousteing's Balmain. Just like every B frame before it, the B-IV depends upon a rebellious, no-apologies silhouette that melds together a striking curved brow line, thick acetate frame, and solid titanium custom-hinge. Among the many subtle changes overseen by the Akoni craftsman are slight-yet-precise lens adjustments—which allow these statement unisex frames to create a singularly alluring geometric-yet-cat's eye lift to each and every face. Most recently spotted on the diverse men and women models presenting Olivier Rousteing's Resort collection, these optical and sun designs clearly channel the signature Parisian insouciance that has always been a clear component of Balmain's spirit. Handmade in Japan. Includes Balmain box, hard case, soft case, cleaning cloth, and 1-year manufacturer warranty.
Authorized Balmain® Store

Lens Width: 54mm
Bridge Width: 17mm
Temple Length: 145mm

Made in Japan and shipped from Switzerland. Please allow 6-10 business days for delivery.

We offer free shipping to anywhere in the United States, charge $20 USD to ship to Canada and Mexico, and $40 USD to ship anywhere else around the world. For more info on our Shipping Rates.

We offer a 20-day return policy for all of our eyewear purchased online. Purchase of 2 or more frames will be subject to a 8% restocking fee for each frame that is returned. Prescription lens purchases are eligible for a 50% refund. For more info on our Return Policy.
Handmade in Japan
Balmain Eyewear
Experience Balmain's Eyewear collection, a seamless blend of modernity and heritage. From bold geometries inspired by Parisian tailoring to intricate military influences and shimmering golden tones reminiscent of French Baroque art, their frames pay homage to their unique legacy. Each piece unifies their range, offering a touch of historic finesse and contemporary rebellion.
Digital Try-On
We know choosing glasses online can be difficult which is why we offer our own digital try-on service.
PRESCRIPTION LENS SERVICES
We offer full prescription lens services for all of our eyewear starting at $169. To get started select your frame and click "Add to Cart."